Tub Tickets
Meet The Newest, Cleanest, Clearest Games In Town!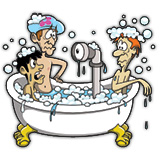 Get your customers favorite short count games with Tub Tickets, a Bonanza Pull-Tabs, Inc. exclusive! Each clear, plastic tub holds a best selling short count game with the seal card right inside. These exciting games are a real win-win:
Easy to open
Easy to store
Easy to see
Easy to sell!!
Get in on some good, clean fun! Call your distributor today and tell them you want Tub Tickets today from Bonanza Pull-Tabs, Inc. Or contact our sales team now for help locating a dealer.