Player Favorites
The Classic Games That Everyone Loves!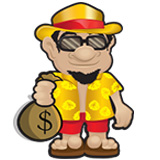 These proven game stars never go out of fashion:
Flashboard Bingo
Crazy Maze
Keno
XYZ Bingo
Zig Zag
Lucky Charms
Step up to a classic! Call your distributor today and tell them you want Bonanza Pull-Tabs, Inc. game today. Or contact our sales team now for help locating a dealer.