Chips
Get Entertainment, Convenience and Revenue – at a Terrific Cost – With The Great Round Games That Make You Smile!
Chips – a Bonanza Pull-Tabs, Inc. exclusive – are the only round tickets in the biz. Here's why they'll keep your players coming back for more: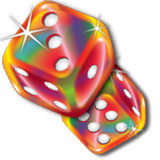 Great graphics – inside and out
Always fun and entertaining – even for non-winners
One window design for fast play and quick game turnover
The right counts and payouts for your needs – every time
Bonanza Pull-Tabs, Inc. offers a wide range of open release Chips games – so you'll always be able to find the one that's right for you. And don't forget, you can order a Custom Chips Game in any structure or payout – just ask!
Got Chips? Call your distributor today and tell them you want Chips from Bonanza Pull-Tabs, Inc.. Or contact our sales team now for help locating a dealer.